No one wants to have their home burgled by thieves. Or do you? Definitely not. Yet, the advent of the internet has left us with a lackadaisical attitude about our security. For instance, cast your mind back to the last time you ordered a parcel from an online store. Recall how much information you gave out about yourself- your name, home address, the time you would be available- it then is an irony when declare ourselves as a 'security-conscious' society.
What a Mess!
However, if technology could get us into this mess, it should be able to create an escape route. Actually, it has created one. The advent of home security cameras has helped make our homes much more secure. In brief, the latest security cameras send alerts to your phone when unusual motion is noticed inside or outside your home.
The market is full of below-standard cameras. Having that in mind, we compiled a list of camera systems that should be on top of your list when it comes to fortifying your home's safety.
Thermal Imaging Cameras
Just a brief introduction to thermal cameras: thermal cameras make us see what humans eye can't see naturally. Here's what I mean: A thermal camera makes us see invisible radiations- majorly infrared- bounced off objects or people. The fun part is, unlike regular security cameras, thermal imaging cameras functions even in low-lighting conditions.
There are many options available to you to choose from. However, a commonality is their four-figure worth of investment. Of course, this would get you thinking: should you rent or buy a thermal imaging camera?       
Nest Cam IQ
So far so good, Nest is among the best quirky cameras you could find. Just a look at its appearance gives a good first impression: all-white design and a black camera face. It is far from the unpleasant metal box you picture a CCTV box as.
Basically, the Nest cam takes footage of wherever it is kept; and saves the tape of the last 5 days to the cloud. What's more is that you can increase its resolution to have a better view of your space. So, you can simply watch it using your computer or phone. It's easy connectivity to the internet makes it a top choice for a smart home.
Talking about smart, this system is smart enough to store faces with its facial recognition system. If it sights an unfamiliar face, it simply alerts you. So, before the burglar takes two steps, you've dialed 999! Did I forget to add the camera has an auto-zoom feature as well as a connectivity to Google assistant?
Hive View
If you liked the Nest design, you will love hive's own more. The perfect black camera cube, magnetically engrossed into the brushed metal stand- either silver or gold- strikes the balance between a well-constructed equipment and an-attention drawing one.
When it comes to resolution quality, you won't have a second thought about falling in love with this camera. Its video quality is top-notch; the pictures are clear and well-defined.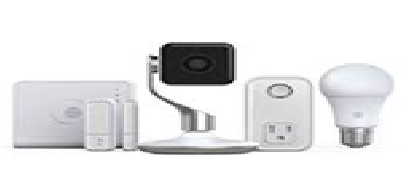 In a nutshell, to get a better picture of this camera, imagine a nest camera without the automatic zoom and Google assistant features. And there you have the hive view. The reason is pretty clear: Nest costs 80 pounds more than Hive view. Truth is, if you aren't all hyper about these two added features, it's economical to save your money and go for Hive view.
Final Words
There are hundreds of more security cameras that might have that feature you have in mind. Equipping yourself with as much other info would help you make a well-informed and relatively better choice.