The Great Barrier Reef is one of the world's greatest wonders. Chances are it's already on your bucket list–but if you need convincing to finally get up and go, then this article is for you. A visit to the reef is so much more than just your typical tour of ocean life: there are activities that will make you fall in love with earth, sky, and water alike. Keep reading for our top reasons why you should bump The Great Barrier Reef up on your bucket list.
1. Diverse Sea Life
The Great Barrier Reef is comprised of more than a thousand reefs, all of which are their own ecosystem of coral, fish, plankton, and shellfish. It spans 2,300 kilometres, meaning every tourist will only be able to see a portion of it during their vacation. This is all the more reason to book for a longer period of time and see all that you can of this great world wonder. So many of the reef's species are only found in the Australian depths. The view is so different from each of the Great Barrier Reef's vantage points. Whether you choose Cairns or the Whitsundays or Fitzroy Island, every place offers you something new.
2. Snorkelling & Immersion
There are so many ways to experience The Great Barrier Reef. While other places in the world will only offer you a view from below or a cruise that skims the surface of the water, at The Great Barrier Reef, you can have it all. If you're a bit older and would like to relax while you see the water, there are Glass Bottom Boat tours that have guided narration from a Marine Biologist.
If you're more adventurous and want to get your dive license, you can go scuba diving and really see the trenches and sea life up close. You can get your heart pumping as you hover over the deep, dark underwater cliffs. Or, if you want a compromise between both, you can opt for an immersion cruise. These have snorkelling tours and ocean-immersed pools which allow you to swim in the ocean without fearing the unknown depths.
3. Sailing & A View of the Coast
The Great Barrier Reef is also ideal for those who love to sail. You don't have to get in the water to see just how beautiful it is. You can choose a professional sailing trip with a number of island stops or just choose to rent a small boat for you and your friends. Eitherway, gliding across clear blue water and watching the beautiful, sandy landscape is a breathtaking experience.
4. Helicopter & Plane Trips
You can also choose to take a trip to different heights and rent a plane or a helicopter. The Great Barrier Reef is breathtaking when viewed from above. From up in the sky, you can see just how the blue of the sea and white of sand go together.
You can also appreciate the shape of the different mountains and cliffs. The plane and helicopter tours also pass by the different tropical islands, showing off just how lush the Australian landscape is.
5. Silica Beaches
Silica Beaches are unique to Australia and some of the beaches surrounding the Great Barrier Reef. Particularly on Whitehaven island, the sand is one hundred percent silica. This means that it doesn't retain heat and feels like velvet on the skin.
It's also been shown to improve the skin and provide excellent exfoliation. Tourists can come to Whitehaven on a day trip, roll around in the beautiful sand and end the day by going for a swim. Sunsets are also beautiful from the Silica beaches because of the reflective quality of the shore.
6. Luxurious Resorts
The Great Barrier Reef offers the best of both worlds. On the one hand, it has all the nature and adventure that you could want, but it also has a lot of mainland resorts that are very relaxing. The resorts are great for those who want to sit by the beach or the pool enjoying a cocktail.
You can also opt to head to one of the resort spas for a massage or a nice, relaxing steam. You also get to choose between the traditional luxury suites or a villa right on the sandy beach.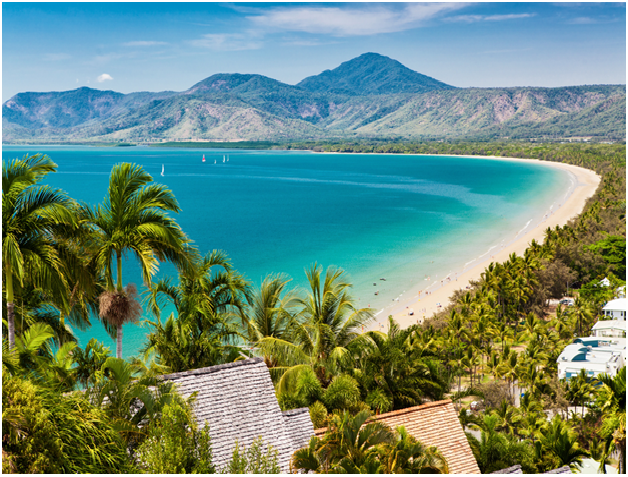 7. Amazing Rainforests
Although the Great Barrier Reef is more often known for its coastal attractions, the islands which populate the reef are primarily comprised of tropical rainforests. A beautiful mix of beach and forest landscapes, hiking trails by the Great Barrier Reef are a sight to behold.
There are a number of guided tours that can show you around the different trees, bushes, flowers, and plant life unique to Australia. Tourists can also see the different species of birds that only live in these particular islands.
8. Skydiving & Hot Air Balloons
For those who crave a little more adrenaline, there's also the option of skydiving or going on a hot air balloon adventure. Although you can do this in different parts of the world, only on this side of Australia will you be jumping down toward heaven. After all, how many people can say that they skydove and landed on white, powder-fine sand?
Takeaways
The Great Barrier Reef is definitely an adventure you'll never forget. Put it at the top of your bucket list because there's so much to do and experience. In fact, why not put it on there more than once? Why choose to only see the island by land, sea, or sky, when you can go for all of it?
There are so many islands to explore and so many activities to do that just going once definitely won't be enough. Book a Glass Bottom Boat and apply for your diving license this year–come back for the skydiving the year after that. Rent a plane on this trip and plan your next trip for the hike of a lifetime.
No matter how many times you visit the Great Barrier Reef, there is always something new to see. Get a head start and see the beauty of the Great Barrier Reef while you can. Take your loved ones with you and create a bonding experience that you'll never forget!